About James Aaron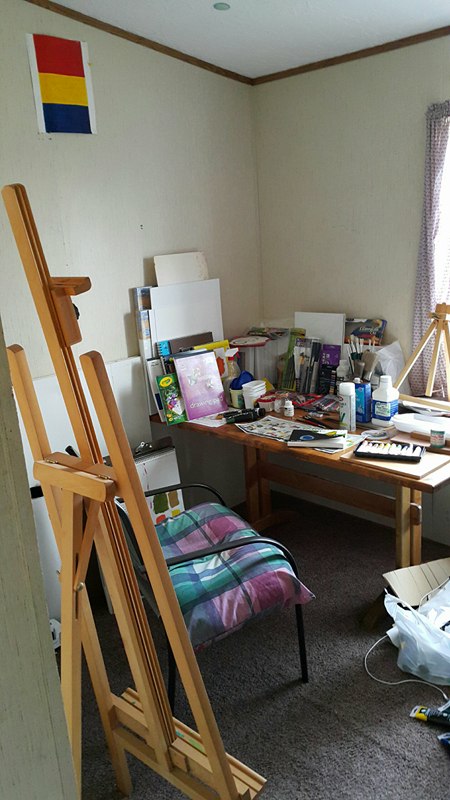 James Aaron's StudioArt has been a passion of mine since I was four years old, and prophecy has been a passion since I was five years old. In my early years, I wasn't sure how to bring the two together. Now, I have a better understanding of how I can do that. 
My dad was a landscape artist with pastel chalks, my uncle John (Dad's older brother) was a graphite artist, and their dad, my paternal grandfather, was a muralist who painted his murals in public buildings.
My dad also physically built three churches and served as their pastor, in addition to his years in evangelism as an evangelist, a soloist, and a member of a traveling quartet. Sometimes, when I was between four and five years old and while Dad was preaching his sermons, Uncle John would be teaching me how to draw such things as people, houses, grass, flowers, trees, clouds, and airplanes.
One of my dad's passions was prophecy. Dad was drawn to not only study prophecy in scriptures but to love, research, preach, and teach biblical prophecy to his congregations. Thus, from my early years, I heard much about prophecy from my dad.
My first personal prophecy was from an angel in an encounter I had with him at the age of five years. My next prophecy was in my dad's tent revival when I was 11-years-old. Since I grew into adulthood, I have had major visions and received a number of personal prophecies that I have decided to paint.
I loved drawing by the age of ten, and borrowed my dad's pastel chalks and a piece of his find grain sandpaper, which is the "canvas" that he used for his pastel artworks. I used a photo of a beautiful red rose and reproduced it. Beautifully, I must say. I still have it, and I'm not sure I can do as well, today.
After that, I had art courses throughout middle school, where I learned to form copper plates and apply paint or ink to them, work leather craft, and carve images into the face of linoleum squares. Of course there were drawings with graphite and paintings with temperas.
In high school, I learned to study a subject and draw it with graphite, charcoal, and pen and ink, followed by painting it with watercolor and tempera paints. I was then asked to paint a mural for Christmas that hung on the wall of a busy area that led to the school cafeteria. Later that year, I was using graphite and charcoal to draw gas collection tanks. The following year, I was painting copies of magazine photos in watercolors.
Because art courses were accused of being "easy A's," college art courses were made much more demanding but quite educational. Especially the study of the history of art, art periods or movements, and art styles. My favorite was and still is what is called representational art or realism, and my favorite American artists in this genre were members of what was called the Hudson River School. Of that group, my favorite artist is landscape painter, Frederic Edwin Church. Other courses were advanced drawing in graphite and charcoal and basic design in black and white. I completed my college level art studies with a course in digital art. I have included works from those courses in my gallery.
Now in my senior years, I feel compelled to revive my interest in art to see if I still have the talent and skills. I am studying oil painting with an Australian landscape painter, Dan Scott. I am also learning oil painting from Bob Ross, the master of wet-on-wet oil painting who taught on public television for years, and Kevin Hill, a student of Bob Ross, from whom I am learning both oil and acrylic painting. I am learning gouache (opaque watercolor) painting from a number of sources, including Bernie Fuchs, John Killmaster, and Calvin Carter, although they are not teaching me directly. I'm studying their works. I've joined several online Facebook art groups, from whom I learn about art media, materials, tools, and techniques.
I am also a member of the Websites and Facebook groups created and hosted by Matt Tommey. From him, I've learned about the business of art, and the most important thing an artist can do. That is practice, practice, and practice more to develop my artistic skills and discover my own style. So. . . that is where I am in my development as an artist: Studying and practicing.